Labeling for IT & Datacom

Labeling for IT & Datacom
For those facing the responsibility of managing IT and Datacom installations, cable identification and panel organization drive the importance of solutions to design and attach durable industrial-strength labels quickly. Epson LabelWorks offers labeling solutions specifically designed just for the purpose. From printable heat shrink sleeves and flexible self-laminating vinyl cable wraps to polyester tapes in a wide range of colors and sizes of labeling supplies for other uses, Epson LabelWorks has your IT and Datacom labeling needs covered.
Popular Printers for IT & Datacom Applications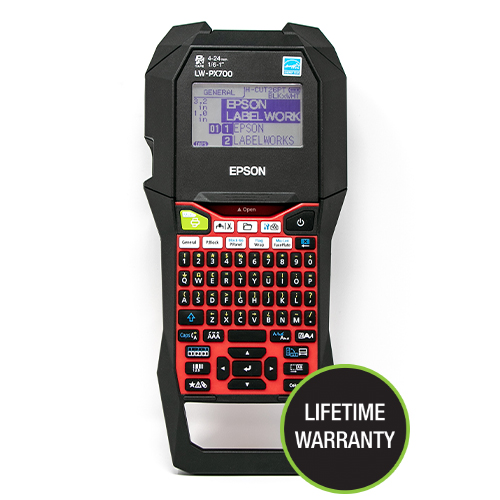 Robust • Versatile • Economical
The LW-PX700 is a portable label printer with exclusive time- and cost-saving features for creating custom labels up to 1" (24mm) wide.
With application-specific hotkeys, this easy-to-use label maker offers extraordinary flexibility. Import images and print on the go — the LW-PX700 features Mixed-Length printing for variable-length labels on a single half-cut strip. Loaded with user-friendly features, the LW-PX700 is among the most popular in the Epson LabelWorks printer line-up.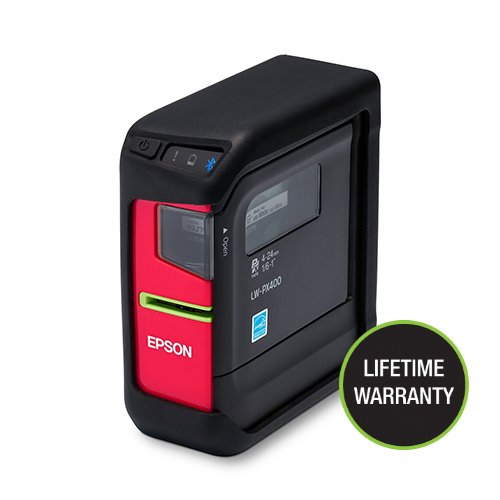 Solid • Trusted • Connected
 Whether you are a datacom installer, an electrician, or need a compact industrial labeling solution, the LW-PX400 is a convenient way to label.
The smallest, lightest, and most flexible 24mm printer on the market, the LW-PX400 can work wirelessly in the field via Bluetooth™ using either an iOS™ or Android™ mobile device, or a Windows PC with Label Editor software (downloads and licenses included). Create professional visual identification with durable adhesive supplies, and mark wires/cables with self-laminating wraps and heat shrink tubing.
Popular Labeling Supplies for IT & Datacom
Vinyl Self-Laminating Wrap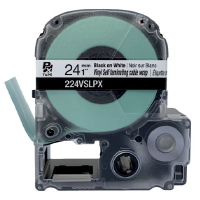 Easy, clean data closet install with no heat required. Smudge-resistant and highly legible. Improved material for better flexibility.
Printable Heat Shrink Tube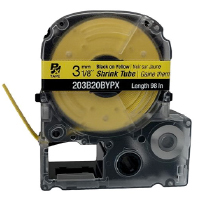 One of our most popular choices, printable heat shrink is a hit for permanent labels for IT & datacom applications. 
Flexible Vinyl Label Tape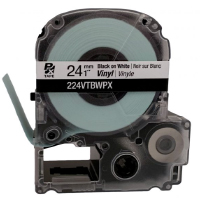 Flexible vinyl labeling tape provides a great surface for patch panel labeling that can withstand common temperature extremes.
Popular IT & Datacom Labeling Applications
Cable/Wire ID
Data Closet Install
Faceplate Labels
Network Installations
Panels Marking
Patch Panels
Self-Laminating Cable Identification
Tool/Equipment Identification
Wire Flags
Wire Routing
Wire/Cable Marking: Creating a Cable Flag
Watch as Melissa Coffman, Product and Training Specialist for Epson LabelWorks walks you through creating a cable flag label for a variety of wire/cable marking applications.
Wire/Cable Marking: Durable Self-Laminating Labels
Need a fast and easy way to create cable identification labels that will stand the test of time? Watch as Melissa Coffman, Product and Training Specialist for Epson LabelWorks walks you through creating durable and flexible cable identification labels using Epson LabelWorks PX self-laminating cable labeling supplies.
Wire/Cable Marking: Fast & Easy Cable Wraps
For fast, easy, and inexpensive wire markers and cable identification labels consider using a simple wrap. Watch as Melissa Coffman, Product and Training Specialist for Epson LabelWorks walks you through creating this type of label using Epson's LW-PX900 and PX label supplies.