Headquartered in America's heartland, Wisconsin-based Epson LabelWorks serves as Epson's marketing, sales, and fulfillment organization for its comprehensive line of thermal transfer industrial labeling solutions for the United States and Canada.
Now an Epson Group Company, we were once known by our legal name, K-SUN Corporation, which began serving the industrial label printing market in 1978.  With more than 35 years of growth and success, K-SUN Corporation was fully acquired by Epson in 2014.
This acquisition created a partnership that combined a long record of one-on-one customer service with an instantly recognizable brand that is trusted worldwide.  Today, we're better known as Epson LabelWorks, a brand that mirrors our ownership, our driving principles, and the products we bring to the market.
But from the very beginning, our focus has always been on innovating award-winning portable and desktop electronic label printers, software, and supplies for those whose work depends on these solutions. For this reason, you can count on five promises we make to every customer: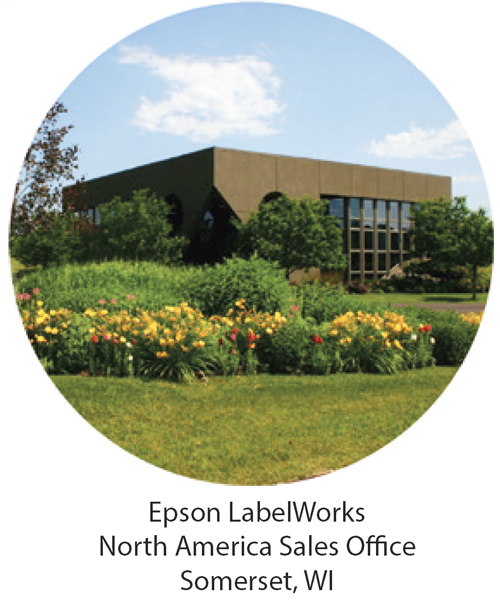 1. Improved productivity
2. First-class customer service and support
3. High-quality solutions with a low total cost of ownership
4. Our steadfast commitment to preserving our environment
5. Our unmatched no-questions-asked lifetime warranty


Today we continue to serve only the industrial labeling market, with customers in nearly every imaginable industry. From aviation and avionics to warehouse management, from electrical engineering to home hobbyists, we're committed to continuing to provide hard-working people with Epson's innovative and cost-effective industrial labeling solutions covered by the industry's only lifetime warranty.


Epson's Principles of Corporate Behavior
As an Epson Group Company, we are committed to the tenants and principles set forth by Epson's leadership at the highest levels. Accordingly, we seek to fulfill our social responsibility by aspiring to live up to the nine principles below and effect continuous improvements based on "trust-based management," a concept that underlies Epson's Management Philosophy

Principle 1: Pursuing customer satisfaction

Principle 2: Preserving the natural environment

Principle 3: Fostering diverse values and teamwork

Principle 4: Creating a safe, healthy, and fair work environment in which human rights are respected

Principle 5: Ensuring effective governance and compliance

Principle 6: Ensuring the security of people, assets, and information

Principle 7: Working with business partners for mutual benefit

Principle 8: Prospering with the Community

Principle 9: Initiating honest dialogue with our stakeholders
We seek to create value that surprises and delights our customers and helps to make the world a better place. At the same time, Epson aims to be an indispensable company, a company that maintains the trust of all stakeholders (including customers, shareholders, investors, communities, business partners, NGOs, NPOs, and employees) and that exists for the world's benefit.
To learn more about Epson's Principles of Corporate Behavior, please visit Epson's global website here.